Purpose Extending Beyond Our Business Goals
We feel it's important to give back to the community we're a part of, and stay committed to making everyone's quality of life better through automation.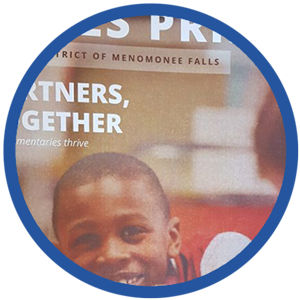 The Next Generation of Great Automation
Automation Solutions was published in the School District of Menomonee Falls newsletter as one of the companies partnering with the high school's innovation center. Superintendent Dr. Greco also cited support from Milwaukee Tool, Magnetek, and Marsh Electronics.
According to the letter, the innovation center is "where students have the opportunity to learn about engineering, design and manufacturing in a world class facility." Talented high school teachers and committed area business professionals and volunteers share their expertise to help teach students.
Automation Solutions specifically works with the high school's robotics club: Arsenal Engineering FIRST Team 6223.
Helping Students Learn about Engineering and Business
Each year the Arsenal Team builds a robot with defined parameters. It's essentially as if the students are starting up a business to raise funds and create a robot for competition within a three-month time span. With the help of their coaches and sponsors, students gain hands-on experience through this process.
This year the team's sponsors included Automation Solutions LLC, NASA, Rockwell Automation, Marsh Electronics, and the Optimists Club. In addition, a team of nine mentors, including Automation Solutions' President, Steve Nordness assists with the learning and growth of the team.
A quote on the Arsenal Engineering's website explains, "FIRST is more than robots. The robots are a vehicle for students to learn important life skills. Kids often come in not knowing what to expect – of the program nor of themselves. They leave, even after the first season, with a vision, with confidence, and with a sense that they can create their own future."

~Dean Kamen
Redirecting Skills "Sets" Up All Sorts of Opportunity
Automation Solutions LLC's VP-Marketing offers up his time to coach girls volleyball in the Milwaukee area. Michael Shea, a former professional volleyball player, is a long-time lover of the sport and enjoys giving back to an activity that provided him so much opportunity throughout his life. Michael is currently coaching at Pewaukee High School, The Midwest Penguins Volleyball Club, and offering private training programs to help young female athletes achieve their goals in becoming the next generation of strong female leaders in sport, work and life.
While on its surface it may not be obvious the connection between automation and coaching, Michael finds them to be intertwined. "The more we find opportunities to introduce automation to businesses, the more potential time we can uncover for individuals to think, give back, and perform more meaningful tasks. I'd love to see people stepping away from mundane, thoughtless tasks and pushing themselves to achieve more. It's not about taking human elements out of the workplace, it's about redirecting those elements in a way that frees up peoples' time to do the tasks that machines can't do."
Michael has found work/life balance in his time at Automation Solutions LLC and has witnessed first-hand the impact of the firm's work. "I've seen so many instances where the solutions we provide our clients increases their throughput. It allows people to cut back from those 50+ hour work weeks and use their time to learn new skills and participate in activities that better the community."