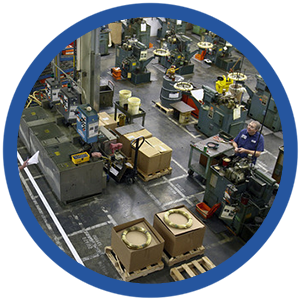 Now Offering Affordable Automation "Packages" For Manufacturers Of All Sizes
Automation of repetitive manufacturing tasks by leveraging robots and cobots is giving manufacturers a competitive edge by increasing productivity, streamlining operations, reducing costs, and increasing workforce safety. Consider the benefits of integrating our turnkey solutions for:
A Few Simple Steps For Your No Obligation Quote
We've created a simple, NO-COST process to help manufacturers gauge if the automation of these basic tasks is right for their business. We'll deliver a directional quote and solution within 48 hours of hearing from you – WITH NO OBLIGATION. Fill out this simple form providing your basic requirements and we'll follow up with a solution, options, and pricing. This process allows you the comfort of deciding whether our solution will fit your needs without the pressure from the typical "salesperson." If this is of interest to you and your business, all you need to do is…
Fill out this short form helping to identify your manufacturing needs.
You'll receive a follow up within 48 hours from an Engineer (not a salesperson) with our proposed solution and pricing.
Decide if Automation is right for your business. Our team can even assist with ROI calculations if you have a need for justification to your executive or management teams.
Machine
Tending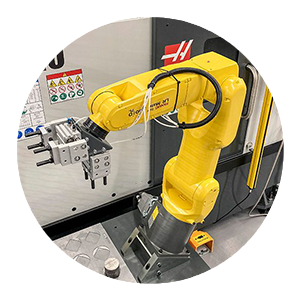 Manufacturers automating their applications with robotics see a significant increase in productivity. A machine for example can be loaded and unloaded by a robot at a rate of up to 480 parts per hour. That works out to be about one part every 7.5 seconds, human operators cannot come close to that kind of throughput. Errors resulting in damaged parts are typically eliminated – preventing the waste of materials and downtime it takes to replace parts or correct mistakes.
Press
Tending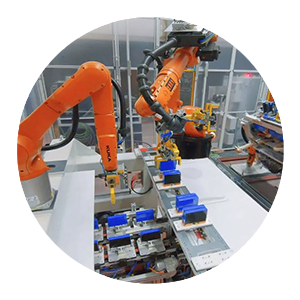 Swapping out manual operators for press tending robots increases operation safety for manufacturers as well as removing workers from an undesirable and taxing job. Press tending is one of the most dangerous and fatiguing manufacturing processes. Workers are subject to repeatedly lifting heavy materials to and from presses – putting a great deal of strain onto their bodies. Workers are also at risk of losing a finger, hand, or arm when tending press machines. Press tending robots are designed to be able get within half an inch of press machines to load or unload parts without failure.
Palletizing &
Depalletizing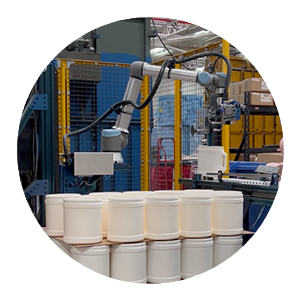 Pretty much every manufacturer has a need for palletizing and depalletizing, as it's the most common method of receiving inbound parts or packaging outgoing final products. This is another one of those highly manual processes that can be automated. Our systems can even be configured to handle the insertion or removal of things like slip sheets as well as accommodating parts that are irregular or not always uniform in shape.
Integrating Automation to an Existing Cell
The whole process is typically easier than you may think. Our experts provide a comprehensive range of flexible solutions making machine tending robots a viable choice – EVEN FOR SMALL BUSINESSES. Our packaged solutions come in less expensive and are quicker to implement than you might imagine. They can even provide considerable benefits on smaller production runs and can accommodate line changeovers allowing you to amortize the costs across multiple manufacturing business needs. Given the current challenging state of finding and retaining manual operators, this quickly presents itself as the most viable option for the tedious, dirty and dangerous tending found in many machining environments.


Packaged Automation Solutions