Situation
PRO Engineering / Manufacturing Inc. was established in 1977 as a steel fabrication shop. From their modest beginning, complete machine fabrication capabilities were added to meet the demands of the growing marketplace. With over four decades of expertise, the company has become known as the leading provider of pasteurizers and warming/cooling solutions for the brewing and beverage industries. No other company offers as broad a range of products tailored to meet all sizes of customers and budgets.
As the company grew and evolved to meet the demands of more sophisticated clients, Automation Solutions LLC became a trusted partner in creating Electrical Controls and Human Machine Interfaces (HMIs). This partnership has proven effective in delivering upon the unique requirements of customers both large and small.
Automation Solutions LLC has partnered with PRO Engineering / Manufacturing for years, providing multiple services and solutions. This ongoing, highly collaborative relationship continues to position PRO Engineering / Manufacturing as the leader in their field. While Automation Solutions LLC may not be the "face" to the end-user, we share the same goals as PRO Engineering / Manufacturing in providing the highest quality service and products to our customers. The following examples provide a look at how a small selection of the unique offerings from Automation Solutions LLC supports PRO Engineering / Manufacturing's commitment to excellence.
Opportunity
Implementation
Typical customers using PRO Engineering / Manufacturing's pasteurizers run them unattended, creating difficulty in knowing if/when/why stoppages would occur.
Automation Solutions LLC provided additional features across the product line indicating the machine's status, as well as reporting on conditions which may have caused the last stop – highlighted by a time stamp documenting the stoppage.
Each time a new recipe was being produced by the customer, the system had to be manually adjusted to meet the needs of that specific product.
Automation Solutions LLC enhanced the product with an electronic recipe catalog system to manage run speeds, zone temperatures and alarm set points. In addition, the ability to update the recipe values was pass code protected (implemented to allow on-the-fly updates, combined with the ability to save back to the original recipe as needed by authorized personnel).

This new recipe system provides customers a custom set of temperature monitoring conditions based on each specific product being run through the pasteurizer.
Customers were consistently asking for new methods to increase productivity while searching for cost efficiencies.
Automation Solutions LLC consolidated the part numbers on the HMI terminals to the most cost-effective unit that could still be used across various sized pasteurizers.
PRO Engineering / Manufacturing's original controls design was developed with an encoder for maintaining the main belt speed.
Since the system would cease to function without the encoder, Automation Solutions LLC provided a simulated encoder signal in the instance the original encoder would stop working.
In addition to the standard offering of pasteurizes most often purchased by customers, the team has created custom equipment and systems for breweries all around the world – having recently shipped systems to India, Canada and Europe.
Systems typically feature:
In many instances, the systems can be installed by qualified electricians at the end-user's location; however Automation Solutions LLC's electricians can be contracted for installation at any location.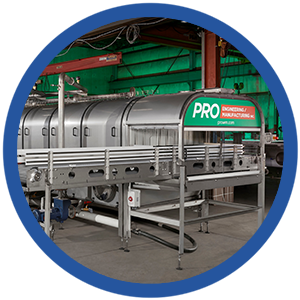 "The partnership between our companies positions customers to be successful. The companys' combined expertise provides the latest in reliable brewing technology."
~ Ryan Michalski, General Manager, Pro Engineering / Manufacturing Inc.
Impact
The combined machining and pasteurizing expertise of PRO Engineering / Manufacturing with Automation Solutions LLC's engineering and automation proficiency creates a formidable team, one that is unparalleled across the brewing/beverage industry.
More specifically, PRO Engineering / Manufacturing's Relationship with Automation Solution LLC provides:
Customers reap the benefit of working with a supplier capable of providing multi-tiered, industry leading solutions and equipment to fit almost any budget level.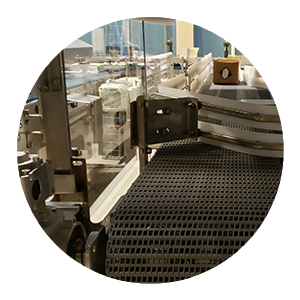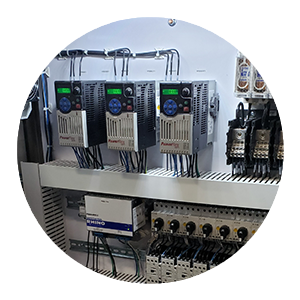 An example of the team's work is about to be featured in the National Brewery Museum in Potosi, WI during 2021. For more information on visiting the museum to see our Automated Pasteurization System, check out: https://www.potosibrewery.com/museums/national-brewery-museum/ The museum is operated by The American Breweriana Association (ABA), a non-profit, tax-exempt historical and educational group that was formed to preserve the history of brewing and brewery advertising. Members of the ABA share a passion for brewery history, as well as for collecting cans, bottles, labels, signs and other beer-related memorabilia.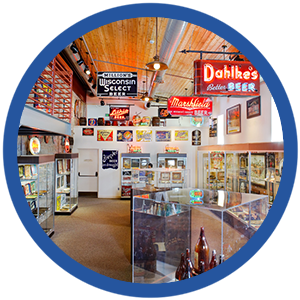 PRO Engineering / Manufacturing Inc.