Many operators think automation is just for "Big Business." The following example showcases how a 100-year-old business blended Automation with Artisanal Ribbon Crafting through a relatively minor investment and in the process… increased their operator efficiency by 40%!

Cream City Ribbon is a manufacturer of biodegradable decorative ribbon located near Milwaukee, Wisconsin. Their ribbon is made of cotton yarn that is 100% grown and dyed in the United States – every aspect of the ribbon crafting process is designed to ensure a sustainable product. A unique manufacturing process combines old school machinery with ecologically friendly raw materials to produce a beautiful and customizable solution for retail packaging, gift wrapping and decorative enhancements.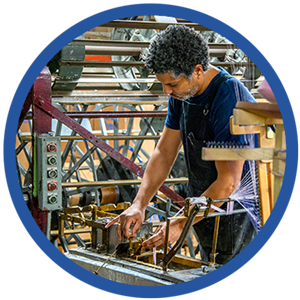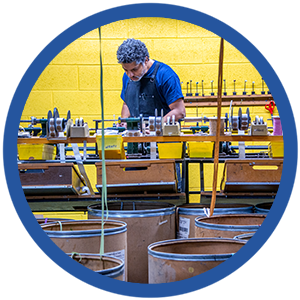 Manufacturing Process
As part of the manufacturing process, the cotton strands are glued together and then dried on large rotating Wheel Racks. When the ribbon exits the drying Wheel Rack, it goes through a series of upper and lower sets of vertically arranged reels to form an Accumulator. The lower set of the Accumulator's reels are mounted on a moving track that can travel vertically up and down – this ensures that the ribbon does not get too slack or too tight. Customized or stock printing can be added before the ribbon is directed onto a Spool. Because the drying Wheel Rack motor and the Spooling motor are not connected in any way, an operator was needed at the Accumulator station to continually adjust speeds, ensuring the correct ribbon tension.
Previously, the owner/operator Eric Crawford employed an artisanal ribbon maker who was also a professional dancer – and possessed the rare talent of being able to adjust speeds on the fly. With a new ribbon maker starting, Eric recognized the inefficiency of having the ribbon maker stand near the machine to constantly adjust the speed of the controllers and was curious if there was a way to automate this part of the process?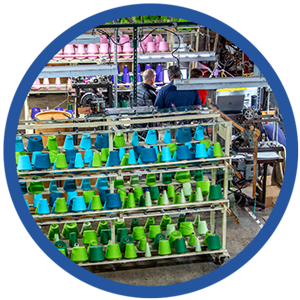 Eric had gained exposure to Automation while serving on the board of a local environmental non-profit with Blake Moret, CEO of Rockwell Automation. Eric had also been working with local industrial businessman Carl Penner on lighting enhancements and other factory improvements since acquiring the business. Penner, a trusted friend with Automation experience in the manufacturing environment for over 35 years, was able to provide the solution.
By utilizing a Rockwell 45DMS Distance Measurement Sensor and a Rockwell PowerFlex 523 Variable Frequency Drive to regulate the speed of the Spooling Motor, the Accumulator could now be programmed to adjust automatically to regulate tension. When the Sensor detects the bottom set of Accumulator reels have reached the lower set point, the take-up speed on the Spool motor increases slightly. When the Sensor detects it has reached the higher set point, the Spool motor speed decreases slightly. These adjustments allow the Accumulator to operate automatically and unattended.
Automation Solution
This Automation solution allowed the operator to accomplish other tasks involved with the ribbon making – instead of being tied to the Accumulator station to adjust the speeds of the motors. Eric estimates operator efficiency has increased 40% after converting two of their machines to the automatic tension control upgrade. For a small investment (under $5,000), this artisanal manufacturer of environmentally sustainable ribbon was able to greatly increase his factory output and take on larger orders – without having to add personnel hours.
When you think about manufacturing success, often those stories come out of bigger companies. We're small, but this project was successful because Carl invested the time to have involved conversations and to understand our business," Crawford stated.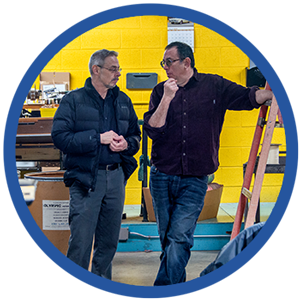 Once again, automation created a win-win for everyone involved… a win for the environment – and incremental growth for a small business.
---
Are you interested in learning more about Cream City Ribbon?
Contact Eric Crawford at eric@creamcityribbon.com.
---
Do you have an interest in learning how Automation can impact your business?
Contact Carl Penner at carl.penner@automationsolutionsllc.com.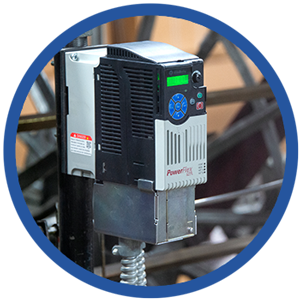 Yet Another Example Of Operator Efficiency Achieved Through Automation